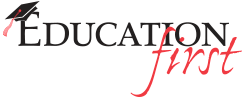 Openings
About Our Organization
Founded in 1995 by a group of recent college graduates it is our belief that education is an "equalizer" and can help break generational poverty. As professionals, we come together to help low income youth get a college degree by providing scholarships. We are a 501(c)(3) nonprofit organization and have chapters in Seattle, Portland, San Francisco, Los Angeles, San Diego, Denver, Austin, and Boston.
Get notified of new jobs at Education First
Visit our website
Want to accept on-line employment applications for your own business?
Visit NinjaGig.com
today.